The 2022 EO Tuck Medal
Citation for James McCaw
Professor James McCaw, University of Melbourne, has a record of outstanding research in, and distinguished service to, applied mathematics. Furthermore, he has demonstrated his leadership in both the ANZIAM community and society more broadly, as an applied mathematician making fundamentally important contributions, and raising the profile of mathematics.
From a mathematical perspective, James' research covers dynamical systems, stochastic processes, numerical and computational simulation, and Bayesian data analysis. James engages in deeply cross-disciplinary research into the development of novel mathematical and statistical models in biology, with a focus on their application to understanding infectious diseases. His research expertise primarily focuses on host-pathogen interactions and epidemiological transmission dynamics. The impact of his work has been significant, particularly in recent years, where his expertise has been highly sought after by public health authorities, translating fundamental insights on infection derived from mathematical and statistical modelling into policy relevant advice and decision support.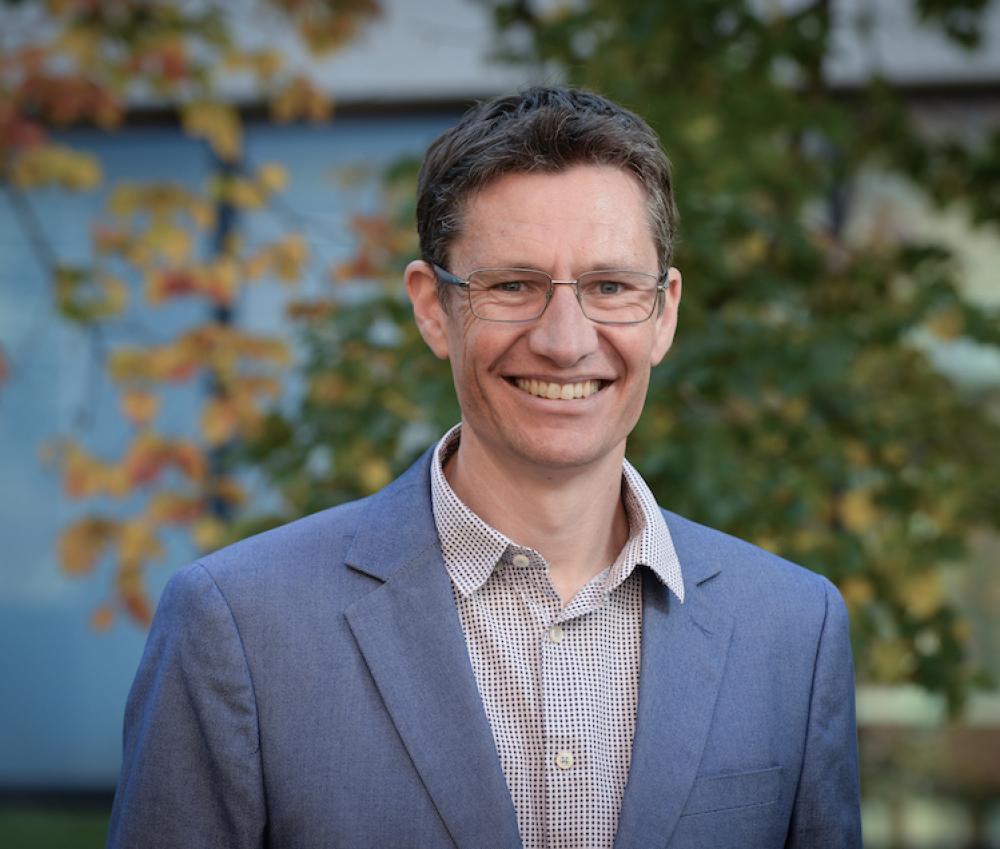 Professor James McCaw
James has published over 100 peer-reviewed journal papers, in addition to numerous other research outputs in the form of reports to government agencies detailing findings from model-based investigations and recommendations for response strategies to emergent disease threats. Most notably, his 2007 Mathematical Biosciences paper with Professor Jodie McVernon formed the foundation for much subsequent research, including the model used to inform the Commonwealth about SARS-CoV-2 and trigger the Australian response in the first week of February 2020. From January 2020, James has been an invited expert member of the Australian Health Protection Principal Committee, directly advising the Commonwealth and jurisdictions on response options for the COVID-19 pandemic. He was also a member of the Communicable Diseases Network of Australia COVID-19 Surveillance Working Group, contributing to Australia's National Surveillance Plan. The epidemic assessment work that James has led for COVID-19 in Australia has become part of the national terminology and framing. He introduced the notion of `transmission potential' and co-wrote elements of Australia's National Surveillance Plan for COVID-19 that define these measures as key instruments for evaluation of the epidemic and Australia's response. His team's findings are reported weekly to the Australian government.
James' exceptional research and impact has been recognised through receipt of the University of Melbourne Award for Excellence in Engagement in 2021. Furthermore, James was awarded the 2016 Australian Museum Eureka Prize in Infectious Diseases (for collaborative work on malaria infection and drug action), an Australian Institute of Policy and Sciences' Victorian Young Tall Poppy Award in 2012, and the inaugural Public Health Association of Australia's Aileen Plant Memorial Prize in Infectious Diseases Epidemiology in 2009 (for research on allocation of antiviral drugs for pandemic response). His research in epidemic forecasting was recognized with the 2018 CivSec National Innovation Award for Civil Security and a category award in the same year for Innovation in Disaster Relief, Emergency Management and Humanitarian Services. He was invited to join the World Health Organisation's Influenza Incidence Analytics Group, formed in 2019 and expanded and refocussed as part of the global COVID-19 response. His teams' contributions to this emerging field were presented through a 'perspective' piece published in the top-tier journal PLoS Medicine in January 2020.
Pre-COVID, and linked to his Young Tall Poppy Award, James delivered numerous talks and workshop sessions to secondary school students on the role of mathematics in understanding how diseases spread and how we can better manage them. In 2017, he worked with AMSI to develop a long-format introduction to disease modelling for secondary school students (see here). James has been a regular commentator in the national and international media on COVID-19, appearing on TV (The Drum, 7.30, 60 Minutes, Seven News) and radio (ABC, 3AW) and through commentary, analysis and interviews in the print media. He has written regularly for the past decade for The Conversation, Pursuit and other long format speciality publications such as Cosmos Magazine.
In addition to these numerous service contributions to society more broadly, James has consistently made strong and valuable contributions to the academic community. He is an Editor for Epidemics, the leading speciality journal for infectious diseases modelling, and serves on the editorial boards of the journals eLife, Infectious Disease Modelling and BMC Theoretical Biology and Medical Modelling.
Over the last decade James has been a strong contributor to ANZIAM. He was a founding member (2012) and chair (2015–18) of the Mathematical Biology Special Interest Group of ANZIAM. He served on the executive of ANZIAM while he was Chair of the Mathematical Biology Special Interest Group. Furthermore, James was Deputy Chair of the 2021 ANZIAM Conference Organising Committee. He was the original Director of the Conference; establishing the committee, venue, and undertaking early planning when he stepped down due to COVID-19 commitments.
At the University of Melbourne James was Associate Dean (Research) for the Faculty of Science from January 2020 to June 2021. In his relatively short time in the role, he had substantial impact, including initiatives to support early career researchers whose career progression has been affected by COVID-19. He continues to advocate for the importance of discovery-based research, and support the development of ECRs and broader diversity and inclusion. James has also served as Assistant Dean for Graduate Programs where he carried a major role in supporting graduate students. As a mentor himself, James has supervised 6 research fellows, 7 PhD students and 22 Masters students across the disciplines of Mathematics and Statistics, Bioinformatics, Epidemiology and Public Health.
James is clearly an exceptional "well-rounded" academic, with an impressive balance between high quality and impactful research, outstanding teaching and mentoring, and service within ANZIAM as well as responsive service to the community through his government policy work and media communications.
For these reasons, the selection committee believes that Professor James McCaw is a very worthy winner of the ANZIAM E.O. Tuck Medal for 2022.