The 9th Australasian Conference on Mathematics and Computers in Sport
Twin Towns Resort, Tweed Heads, NSW
1-3 September, 2008
More details will be posted as we get closer to the date.
The conference directors are:
Dr John Hammond (University of Lincoln, UK);

Emeritus Professor Neville de Mestre (Bond University).
This conference will bring together sports scientists who are interested in:
mathematical and statistical modelling in sport;
the use of computers in sport;
the application of these to improve coaching and individual performance;
teaching that combines mathematics, computers and sport.
You are cordially invited to attend.
Previous conferences were held at Bond University (Nos. 1, 2, 3, 4 & 6),
University of Technology Sydney (No. 5), Massey University NZ (No. 7) and Cooloongatta Qld. (No. 8).
Registration
The 9th Maths and Computer Science in Sport Conference will be held at Tweed Heads from 1 to 3 September, 2008 with Arnold Baca , University of Vienna and Ian Renshaw, QUT as invited speakers. More than 30 papers have been accepted.

To register for the conference please fill in the details below and forward to Neville de Mestre at margnev@omcs.com.au. Only those delegates who register before August 1 will appear in the Proceedings under the list of attendees.

Name

Institutional Address

email

Presenting a paper yes/no

Fee (before 1 July, $350 AustMS members, $400 others, $250 students; after 1 July add $50 to each category)
Payments may be made by cheque to N.de Mestre-Mathsport or by direct deposit to Westpac Branch 034-279 Account Number 21-1395. Please indicate below.
cheque/ direct deposit(include date).

Accompanying persons who wish to partake of lunch and morning and afternoon tea each day may do so at $30 per person per day.


Accommodation (to be arranged separately by individuals -see web site for details of accommodation at Twin Towns Resort).
Conference Proceedings will be available at Twin Towns Resort from 4pm on Sunday 31 August.
Call for Papers

Papers are invited on any of the following themes:
computers in sport;
statistics in sport;
mathematical modelling in sport;
teaching of mathematics, computers and sport;
interactions between any of these.
200-300 word abstracts should be emailed to jhammond@lincoln.ac.uk by 25 January 2008, and full papers by 25th March 2008.
Please use the following linked Word (.doc) files as a template for your MathSport-08 abstract and/or MathSport-08 full paper .
Conference papers will be formally reviewed for significance, correctness and appropriateness to the conference themes. Conference Proceedings will be published in a collection which will be available to all at the beginning of the conference. Only those papers considered by the Conference Scientific Committee to be acceptable in content and presentation will be included in the Conference Proceedings.
Other papers may be included on the program, with abstracts provided beforehand by the authors.
Travel/Accommodation
Twin Towns Resort is located in Tweed Heads, not far from the Coolangatta airport. It is only a short taxi-cab ride from the airport. Major airlines flying into the Gold Coast include:
Alternatively flights may be made to Brisbane and then train to Robina on the Gold Coast. A taxi-cab or bus ride will also be required to reach the resort.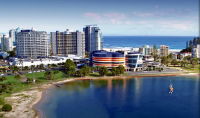 Accommodation at Twin Towns Resort is very affordable. Twenty-five rooms have been reserved for the Sunday, Monday and Tuesday nights of the conference.
Prices (including breakfast) will be:
$135 for a single room,
$145/$165 for a double room per night.
To obtain these special conference discount rates, delegates should use the forms linked here to book accommodation: (.doc ~3Mb) or (.pdf ~140 kb). Download, fill it out and return by fax or email to the addresses contained therein.
For further information visit www.twintowns.com.au.
Presentations
Speakers will have approx. 30 minutes to present their papers and answer questions. The keynote speakers will have approx. 60 minutes to present their papers and answer questions. There will be no parallel sessions.