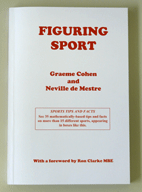 MathSport is a special interest group of ANZIAM (Australia and New Zealand Industrial Applied Mathematics). The group consists of a loose forum for Australian and New Zealand sports scientists to interact. MathSport holds bienniel meetings: the Mathematics and Computers in Sport Conferences.
MathSport brings together sports scientists who are interested in
mathematical and statistical modelling in sport,
the use of computers in sport,
the application of these to improve coaching and individual performance, and
teaching that combines mathematics, computers and sport.
Previous conferences on Mathematics and Computers in Sport (1 through 4 and number 6) have been held at Bond University, Gold Coast, Queensland, every two years since 1992.
The Fifth Conference on Mathematics and Computers in Sport was held at UTS in Sydney, the 2000 Olympic city.
The Seventh Conference on Mathematics and Computers in Sport was hosted in New Zealand during 2004.
The Eighth Conference was held at Greenmount Resort, Coolangatta, QLD in 2006.
The next conference will be held in September 2008 at Twin Towns Resort, Tweed Heads, with Emeritus Prof. Neville de Mestre and Dr. John Hammond as directors (email: jhammond@scu.edu.au).
Fully referreed proceedings have been produced from each of the conferences and are available for purchase at AUD$40 each plus postage.
Figuring Sport by Graeme Cohen and Neville de Mestre.
This book has just been released and contains 35 mathematically-based tips on 15 different sports. There are also suggestions for investigative projects for graduates and undergraduates of applied mathematics. The text could be used for a course on mathematics in sport. Sports covered include tennis, weightlifting, golf, darts, cricket, athletics, billiards, tournament arrangements, bowls, football and rowing.
The cost is $A38.50 plus postage with a discount of $A5.50 for members of the Australian Mathematical Society.
To order contact margnev@omcs.com.au .
Payment may be by cheque made out to N.de Mestre-MathSport and posted to:
46 Bertana Drive, Mudgeeraba, QLD 4213.
Alternatively you can deposit directly to Westpac Branch 034-279 (Robina), Account number 21-1395.